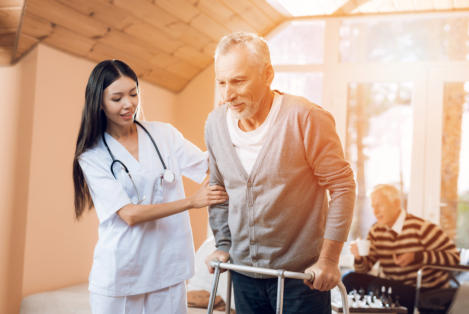 Are you thinking about hiring a caregiver? It's certainly a decision you won't be regretting, one that would benefit both you and your loved one who needs care.
Caring for a sick or elderly family member can be difficult. It's a rewarding experience nonetheless, but one can't deny how severely it can affect the way people live their lives. The patient has to be made a top priority. Your schedule has to revolve around the patient's care plan. Regardless of the rewards of family caregiving, it can still impact your personal life in so many ways. But did you know that caring for someone doesn't necessarily mean you have to do it alone all the time? It could mean hiring a professional, someone who is trained and experienced, to provide a level of care service that is beyond what you could provide. Of course, we want nothing less than the best care for our loved ones which is why we should be quick to take advantage of this option.
While it's true that you may have your reservations when it comes to choosing a caregiver service, those can easily be put aside once you do some research, ask for references, and take advantage of reliable online resources. If you happen to be residing and looking out for caregiver services in Virginia, you'll find yourself being led to Ready 2 Serve Home Healthcare LLC.
So why SHOULD you choose a professional caregiver or provider of skilled nursing services instead of doing the caring on your own? Here are some convincing reasons for you.
Professional caregivers provide the best care

There is no question that we would want nothing but the highest quality care for our loved ones. The people in our lives who usually need care are the elderly, the disabled, and those who are battling all kinds of health challenges. These individuals need exceptional care to ensure that they're able to live a high quality of life despite everything they're going through.

Having a professional caregiver around offers family members a little break

One of the biggest mistakes a family caregiver can make is thinking that they can handle everything on their own. This can spell disaster for both parties, with the patient not getting the level of care they deserve due to factors like fatigue, burnout, or lack of sleep on the part of their caregiver.

Having a caregiver fill in for you from time to time is a beneficial choice for both you and the patient.

Professional caregivers provide peace of mind

Imagine heading to work and leaving your elderly or disabled loved in the care of a friend or neighbor. If this person hasn't had any professional training or experience at all, then you're not going to get any work done. All you'll be doing is regretting such a poor decision and calling home every five seconds.

Professional caregivers who have earned their stellar reputation give us all confidence that our loved ones would be okay even in our absence.
At Ready 2 Serve Home Healthcare LLC, we can help provide you with a team who are experienced in providing services of home healthcare in Alexandria, Virginia. If you need our services, don't hesitate to contact us.