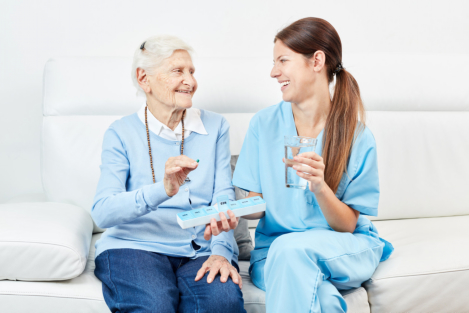 In providing skilled nursing in Arlington County and its surrounding areas, Ready 2 Serve Home Healthcare LLC brings together a team of registered nurses or RNs who take charge of implementing your loved one's care plan. Working with other nursing staff, they make sure your loved one achieves their wellness goals every day. But they are not just there to provide medical care.
As your go-to provider of home healthcare in Alexandria, Virginia, we would like to share the other things RNs do in the pursuit of your loved one's wellness at home.
They keep tabs on your loved one's health.

Skilled nursing involves monitoring how your loved one responds to treatment, medication, diet, and therapies. RNs immediately report any changes in their health status to the healthcare team and give recommendations for improvement.

They help with medication.

When your loved one has to deal with complex prescriptions, RNs help them keep track. They can administer medication in various forms and observe their efficacy, providing recommendations to their healthcare provider to improve care outcomes.

They act as a bridge to various parts of your loved one's care network.

That includes you. When you avail of home health caregiver services in Virginia, your loved one will spend a lot of time with an RN. This puts them in the position to keep lines of communication open between them, the family, and the healthcare providers. They make sure everything is going as outlined in your loved one's care plan to ensure their recovery and wellness.
Are you interested in working with an RN for your loved one's care at home? Call us to get started on a care plan.