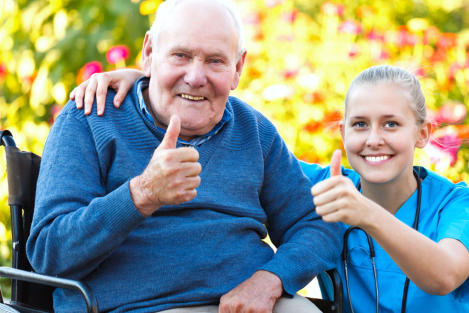 Let's face it—taking care of a beloved can be rewarding, but it can be challenging to an extent. This is especially true to family caregivers with no previous knowledge or experience in caregiving.
When it's time to use an extra pair of hands, don't delay asking for help. There are many ways to help your loved one when the going gets tough. In fact, sending them to a nursing home or care facility isn't your only option. By choosing the right provider of Home Healthcare in Alexandria, Virginia, you can still get a good grip on their care process, help them stay at home, and keep them happy, healthy, and independent.
If in-home care is a fresh concept for you, we've prepared a quick starter guide to help you understand. More and more families opt for home health care for these several reasons. Let this list help you make the right decision for your beloved.
Home health care is a budget-friendly option. Let's begin with the most controversial concern to many households—the cost of care. In-home assistance costs less than your local care facilities. It's a great bargain for having a trained eye looking after your beloved at home. Even with its affordability, you can expect the same competence of care—and sometimes even more—at a more personalized level. The many advantages presented on the succeeding points will help you appreciate the low-cost value of this smart preference.

Home health care bridges families closer together. Families can stay together, even if a member needs special attention. With home health care, your loved ones can heal and age in the comforts of home. It gives more chances to engage in their care process and remove the possibilities of dealing with separation anxieties.

Home health care helps seniors remain independent. Seniors deny admitting help in fear of losing their independence. If an older adult can no longer drive, they may feel discouraged from seeking social activities outside the home. A caregiver can jump in to offer transportation assistance and help them feel in control.

Caregivers offer more than just helping your loved one with their medical condition. While they can provide Skilled Nursing, like medicating and disease care, they can also extend their service to basic chores and living activities. We can help with meal preparation, personal hygiene, or errands. These may be easy responsibilities that you can do for your beloved, but we understand that you have other bigger duties to focus on. With Ready 2 Serve Home Healthcare LLC, you can have peace of mind knowing your loved ones' medical and non-medical needs are met at home.

Home health care gives many wonders to clients and their families. Choosing home health care is a wonderful choice. Aside from its obvious advantages (like those listed above), in-home assistance offers unexpected blessings, too. We've heard many stories about clients and caregivers turned into friends or caregivers treated like family. It's a blessing to form a special bond with your caregiver and cherish that friendship for the many years to come.
Ready to Get Started with Our Exceptional Care?
Allow us to play a part in caring for your loved one. Feel free to browse through our website to know more about our Caregiver Services in Virginia. You may also contact us directly at 703-382-8180.