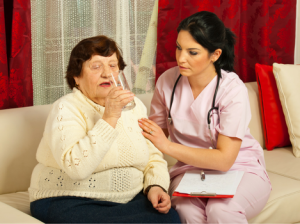 In this day and age, there are countless home health care agencies that offer skilled nursing care as one of their featured services. And, why shouldn't they, right? People are often more concerned about staying at home and being with their family than about their disease. Quite understandable when you think about those who have an advanced-stage illness and how they are simply more intent on making the most of the time they have left. With skilled nursing care, patients with chronic health conditions can live their lives to the fullest. This ground-breaking service has given many family members peace of mind, and respite from caregiving that has allowed them to focus on their lives as well.
Skilled nursing
care means having nurses to provide for complex medical needs at home. Suffering from a chronic medical condition would normally require endless visits to the hospital or even admission to a care institution. But not this time. This time you or your loved ones can remain and receive care at home. Whether it's wound care and dressing, IV therapy, diabetic care, or clinical assessments, they can all take place in the comforts of your home. Skilled nursing care offers one the opportunity to live an independent and fulfilling life. Many times, your illness or disability will keep you from doing things you love. It will keep you from spending time with the people who matter most. Well, not anymore, because, with skill nursing at home, you'll be able to focus more on your life instead of the pain of your situation. Such a service helps you better manage your condition and brings you something to look forward to. A new day. A new life. New opportunities! Skilled nursing care is the best solution for individuals with fragile health who wish to remain and stay healthy at home.
Ready 2 Serve Home Healthcare LLC
, a renowned provider of
Home Health Care in Alexandria, Virginia
, delivers first-rate skilled nursing at home. Our services include, but are not limited to:
Clinical assessment and evaluation
Medication management and administration
Bowel and bladder care
Diabetic care & monitoring and insulin administration
Infusion therapies and injections
Central line and port maintenance
Tracheotomy and ventilator care
Lab draws
Wound care/dressing change
Tube feeding
Ostomy care
Prevention and treatment of skin issues
Pain management
End of life care/Hospice Care
Whenever an illness, disability, or old age threatens to take you away from your home or family, always know that there are home health care establishments out there that can help. There is no other experience like receiving care in the comforts of your residence. For more on what home health care has in store for you and your loved ones, please visit
www.ready2servehomehealthcare.com
. You're also welcome to call
703-382-8180
for your inquiries and requests.