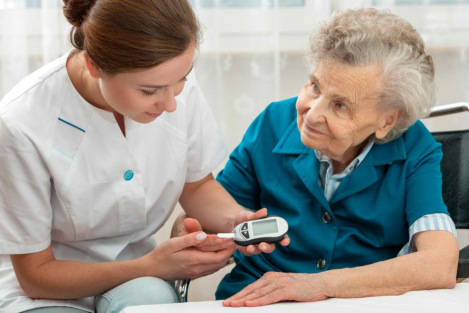 Diabetes is a chronic disease that is generally characterized by the body's inability to regulate glucose in our blood. This may happen due to the lack of insulin production in the body (Type 1) or the body's inability to use insulin efficiently (Type 2).
As a provider of home healthcare in Alexandria, Virginia, we want to help you reduce your risk of getting diabetes. This is what it's like to live with diabetes.
Diabetes patients often have to monitor their glucose levels regularly. Their blood sugar tends to go out of control, which can be dangerous. They monitor their blood sugar with the help of a continuous glucose monitor (CGM).
It is recommended that they check their blood sugar levels before a meal and 2 hours after a meal. This helps them know how their diet affects their current blood sugar levels and how they can adjust their diet accordingly.
Patients with diabetes also need to take insulin shots regularly. Insulin is the hormone responsible for controlling the glucose in the body. Through insulin shots, patients avoid the buildup of glucose in their blood. Most patients usually take 2 shots of insulin per day.
Living with diabetes is not easy. It needs constant monitoring and medication. But with the help of skilled nursing services, living with diabetes can be manageable.
If you have more questions about medical care at home, get in touch with us here at Ready 2 Serve Home Healthcare LLC. We offer caregiver services in Virginia and are dedicated to providing quality care to those who need it.