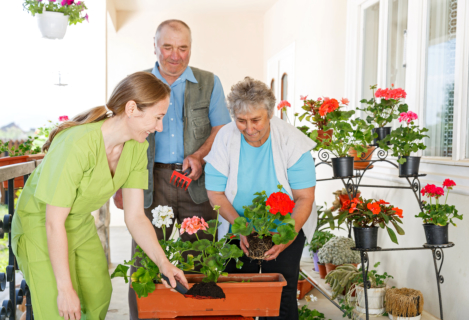 During the golden years, many elders retire after nearly a lifetime of work. With this newfound freedom comes a lot of spare time may come as a surprise for many. In addition to receiving caregiver services in Virginia, seniors can lead long and healthy lives by engaging in hobbies to reduce stress and improve overall well-being.
As a trusted provider of companion care in Fairfax County, we will share a few engaging hobbies for retired seniors:
Indoor Hobbies

For seniors who prefer to relax at home, there are numerous indoor activities to occupy their free time. Learning or re-learning to play a musical instrument offers the opportunity to develop their skills and enjoy their favorite music. Other creative pursuits include crocheting, cross-stitching, and painting. In addition to skilled nursing, a home care provider can assist seniors with indoor activities.

Outdoor Hobbies

Seniors who love to spend time outdoors will enjoy activities like hiking and birdwatching. Playing golf, gardening, or joining a fitness group are also great ideas for outdoor time. These fulfilling hobbies also offer numerous opportunities for socialization so seniors can maintain an active social life.

Wellness Hobbies

For seniors with a passion for wellness, several activities can keep them active and engaged. Yoga and Tai Chi are mind-body workouts that provide invested beginners a hobby they can grow into. Dancing is another fun way to exercise and meet like-minded people.
Ready 2 Serve Home Healthcare LLC is committed to delivering high-quality home healthcare in Alexandria, Virginia. Whether an aging parent or loved one requires assistance with personal care or care for more serious needs, we have got you covered. Give us a call to discuss your loved one's needs with us.