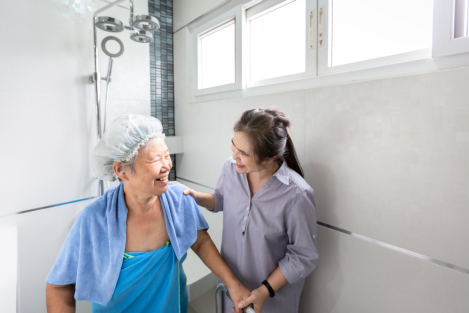 Are you taking care of a loved one with Dementia?
Ready 2 Serve Home Healthcare LLC knows your struggles well. In the initial stages of Dementia, regular caregiving may suffice. But care needs to evolve as time goes on and the disease progresses. Soon, a more specialized care plan that emphasizes skilled nursing and safety will be needed.
Fortunately, you and your loved one can find help in our home health caregiver services in Virginia. We bring together a team of professional nurses who coordinate with your loved one's trusted healthcare provider. Together, we execute care plans that make home living safer for dementia patients. How?
We can provide companionship and supervision.

Dementia patients are prone to wandering or getting stuck in situations they find difficult. With our companion care, and other areas, they will always have someone who can direct them well and attend to their needs on hand.

Our services meet their daily living needs.

Without aid, many dementia patients cannot do tasks like bathing, grooming, doing laundry, and preparing meals. Having a team that is well-trained in non-medical care and other areas ensures they keep up with personal hygiene, housekeeping, prescriptions, and other daily living necessities.

You get to stay updated on their health status.

Our team of nursing practitioners does more than help your loved one manage symptoms and daily needs. They also provide you with information on how well they respond to their care plan, enabling you to make care decisions for their benefit.
Having a trusted partner in home healthcare in Alexandria, Virginia provides those caring for loved ones with dementia a reliable source of assistance. Feel free to contact us to learn about your loved one's care options.